Get all you can eat wings for $15.99 at Hooters every day now through Monday, September 9th. 
Hooters varieties of wings – Smoked Wings, Original-Style Wings, Daytona Beach-Style Wings, Naked Wings and Boneless Wings – can be tossed in your favorite of fifteen sauces or one of five dry rubs, including Texas BBQ, Caribbean Jerk and Garlic Habanero.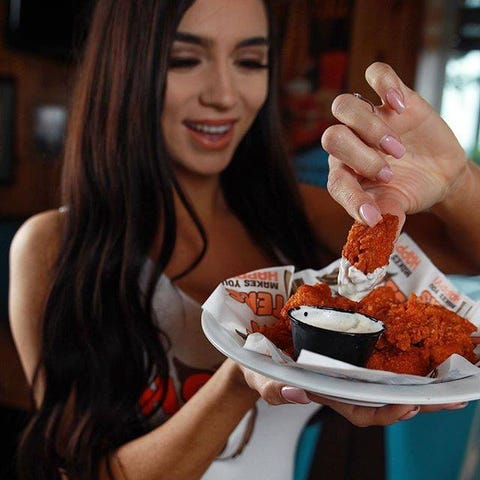 In celebration of this extended offer, Pro-Eater Joey Chestnut will make special appearances at Hooters in six different cities to celebrate All You Can Eat with Hooters guests.
"Here's your chance to get up close and personal with Joey, including getting signed autographs or taking pictures with him. He's also going to show off his legendary eating skills by participating in the All You Can Eat offer, eating Hooters wings for one full hour during each of his restaurant visits," Hooters said in their announcement.
Hooters also has unofficially dubbed Joey Chestnut as its All You Can Eat spokesperson, honoring him with an entire lifetime's worth of Hooters wings. Joey will have access to unlimited wings until he retires or spontaneously combusts . . . whichever comes first!